Trucking - LearnBolt hits the road with innovative mobile training
15/08/18 11:25 Filed in:
Client Story
AssuredTelematics partners with LearnBolt to rollout innovative mobile training to trucking fleets nationwide.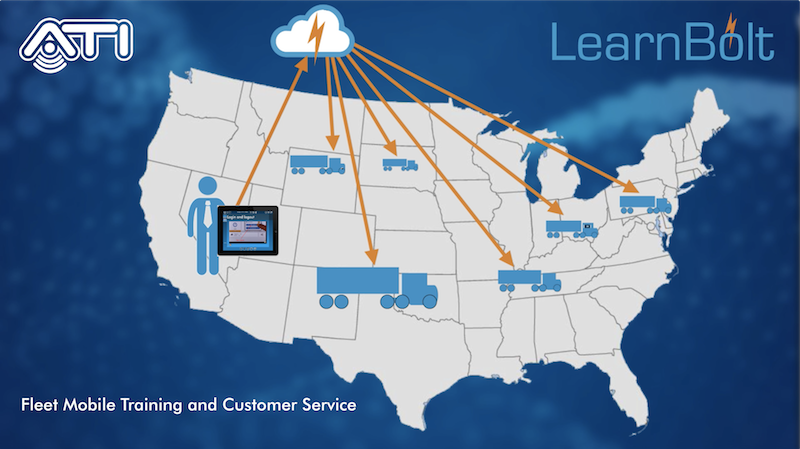 Assured Telematics, the leading independent provider of Geotab telematics solutions to the commercial distribution industry, has a long history of providing first class support and innovative solutions to their customers. When the FMCSA passed the mandate that paper logs were to be replaced with electronic logs last December, the telematics industry knew that a higher level of training was going to be required so that drivers felt comfortable with electronic logs. Assured Telematics turned to LearnBolt to help build out a solution which would not only allow for drivers to easily review elog steps and requirements, but also connect drivers with their fleet managers and Assured Telematics Support. After careful review of their technology, we saw the ease of use and flexibility and committed to build our complete training solution around the LearnBolt platform, states Frank Pellitta, President of Assured Telematics. We now continue to work with the LearnBolt team to create other innovative apps for our fleet customers based on this flexible platform.

Check out this video featuring ATI's innovative Fleet management solutions featuring LearnBolt's unique 21st century Knowledge Management approach for productivity, training, and customer support.
LearnBolt is a new breed of productivity and training platform. LearnBolt's unique process of Prescriptive, in-the-Moment, and Push to empower knowledge makes it easy to deliver the right type of knowledge when it's needed. Fleet managers can roll out new policies and procedures to 1 or 1000's of drivers in seconds then view learner activity and export training records out for use in other systems. Drivers can be empowered with curated content libraries to search and find source knowledge when needed. If a driver needs technical support, managers or customer support reps can curate and push"bolt" custom knowledge solutions to on-board mobile devices to keep drivers informed and rolling.

Businesses of all types and sizes struggle to keep pace with the needs and expectations of todays "now" generation workforce. With higher turnover, outdated on-boarding practices, and slow productivity, it's more important than ever to empower your managers and frontline workers with the latest knowledge when and where they need it.

LearnBolt's 21st-century approach treats a business knowledge base as a fluid resource and empowers your team with nimble tools to mine, organize, and immediately share knowledge. Our goal is to help businesses shorten on-boarding time, sustain quality and consistency, and increase overall productivity to fuel growth and profitability.

You can email, you can text, you can tweet, but if you really want to share the power of knowledge, just Bolt it!


FOR MORE INFORMATION:


Click
ATI Trainer
for details on how AssuredTelematics is using LearnBolt as a customer support and training tool for trucking Fleets nationwide.